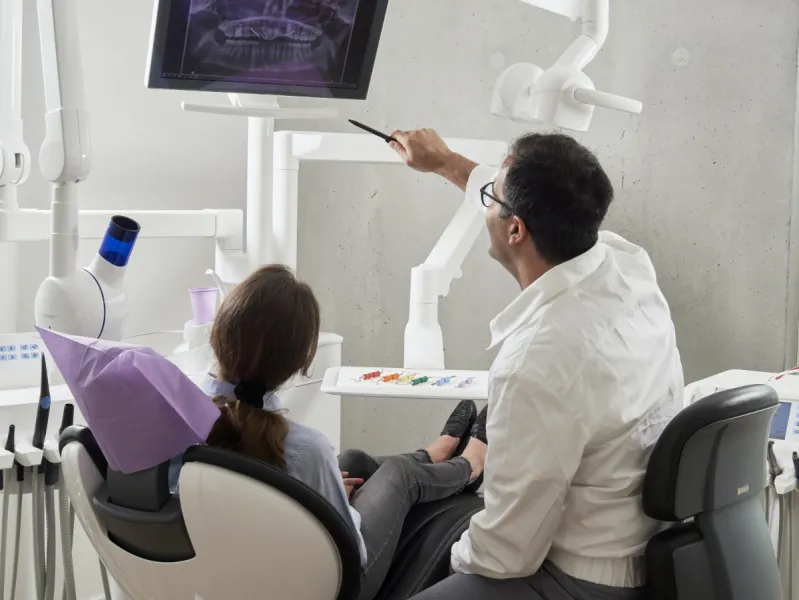 What To Expect
During your first visit at Adairsville Periodontics and Implant Dentistry, we will complete an in-depth medical and dental health history and a thorough examination to measure for bone loss, loose teeth, bite, oral cancer screening, TMJ, and other signs of periodontal disease.

Q
Will it hurt?
A
We will be as gentle as possible. The periodontal exam can be completed with little or no discomfort.

Q
Do I need x-rays?
A
We will need current periodontal x-rays in order to see diseases not otherwise visible. If your referring dentist has taken x-rays, you may request that they be forwarded to us.

Q
Will I need surgery?
A
Not everyone needs periodontal surgery. If treated early, gum disease can be controlled without surgery. We will make recommendations based on your individual situation. Our philosophy of practice is to treat as conservatively as possible to attain treatment goals.
Please notify the office if you have a medical condition or concern prior to surgery (e.g. artificial heart valves or joints, heart murmurs requiring pre-medication, severe diabetes, or hypertension).
Q
What type of treatment may be recommended?
A
Although Dr. Alford provides numerous surgical options to treat gum disease, we pride ourselves on the fact that we are very conservative in our treatment recommendations and limit surgery to those areas where it is absolutely necessary.

Our Non-Surgical Treatments
AAP treatment guidelines stress that periodontal health should be achieved in the least invasive and most cost-effective manner. This is often accomplished through non-surgical periodontal treatment, including scaling and root planing (a careful cleaning of the root surfaces to remove plaque and calculus [tartar] from deep periodontal pockets and to smooth the tooth root to remove bacterial toxins), followed by adjunctive therapy such as local delivery antimicrobials and host modulation, as needed on a case-by-case basis.